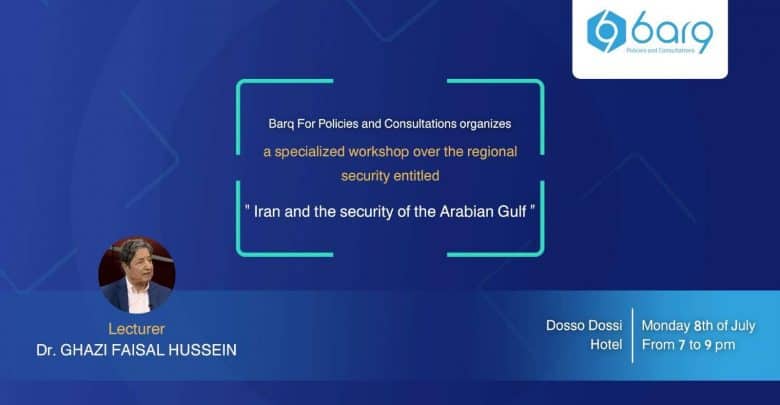 Activities
Events
Specialized Workshop in policy-making entitled "Iran and the Security of Arabian Gulf"
Barq hosts Dr. Ghazy Faisal Hussein on 8th of July 2019 in the political workshop entitled  "Iran and the Security of the Arabian Gulf", the workshop discusses the Iranian activity in the region  and the danger it poses to international regional stability
Barq For Polices and Consultations invites you to attend the event and register via the following link:
https://forms.gle/194NVPkbWZJJrUBTA
Note: the priority will be given for early registration due to the limited number and we will reply to the accepted persons only.
Location: Istanbul- Al Fatih- Dosse Dossi Hotel at: 6:30 pm
Barq is highlighting the expansionary policies adopted by Iranian regime that led to depletion of the region's countries, such countries affected by increasing the rate of danger  strategy in the region and  the world as whole.
The event title:
Specialized workshop in the regional security (Iran and the Security of Arabian Gulf)
Lecturer
Dr. Ghazy Faisal Hussein
The professor of international relations a d political development
Former ambassador of Iraq to France.
Session themes
-The importance of Arabian Gulf
-Gulf Cooperation Council States vision for regional security.
-The American-Iranian escalation and its future prospects.
Date: Monday 8 of July 2019. At 6:30 pm
Location: Istanbul- Al Fatih- Dosse Dossi Hotel
For registration click on the following link: