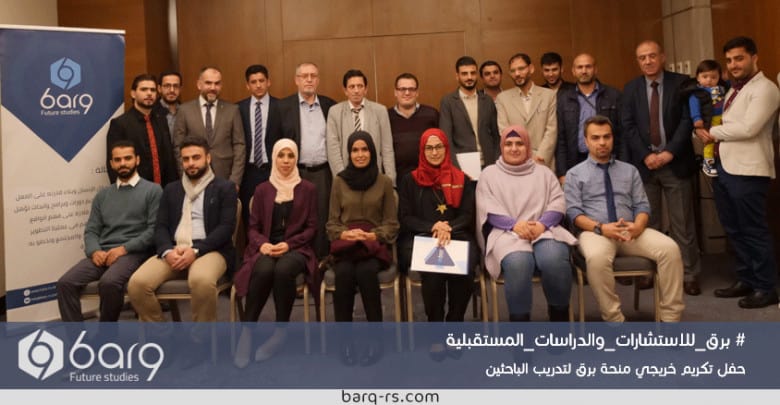 BARQ For Consulting & Future Studies held on Friday 19 October, 2018, in DOSSOSOSS hotel, an honoring ceremony for the winners of Barq Grant to train researchers to prepare academic studies and scientific researches attended by the arbitration committee and most of the participants in the training program, in addition to some academic figures and cadres specialized in scientific research.
The ceremony started with a speech welcoming those present and a briefing about the content of the training program that was carried out between the 9th and the 23rd of September 2018 with the participation of distinguished specialized trainers, the previous chair of the Doctrine and Philosophy department in the International Islamic University, Dr. Nabil Al Fouli, professor of social communication studies Shahrzad bin Ammar and Barq chair of the research unit, Mr. Mahmoud Ibrahim.
Following this, Mr. Salah Yossef, Barq Executive Director, delivered the center's speech in which he talked about the goals of the course and its importance as seen by BARQ For Consulting & Future Studies. Then the names of the first three winners were announced and they were given the floor to briefly present their research papers. Then the arbitration committee expressed their opinions and remarks about all the graduation projects submitted by the trainees they also gave their complete evaluation of the training period calling Barq Center management to condense the efforts to repeat and develop such courses.
The evaluation was followed by the honoring and the delivery of prizes to the winners. These were given by Mr. Bachir Kefah who delivered the concluding speech in which he talked about the goals Barq center achieved via the grant saying that the main goal of the course was paving the way for the researchers who want to develop their research capabilities and skills to be the starting point in their academic career.
The participants enriched the ceremony with their interaction leaving a special impact by taking commemorative group photos for this occasion.