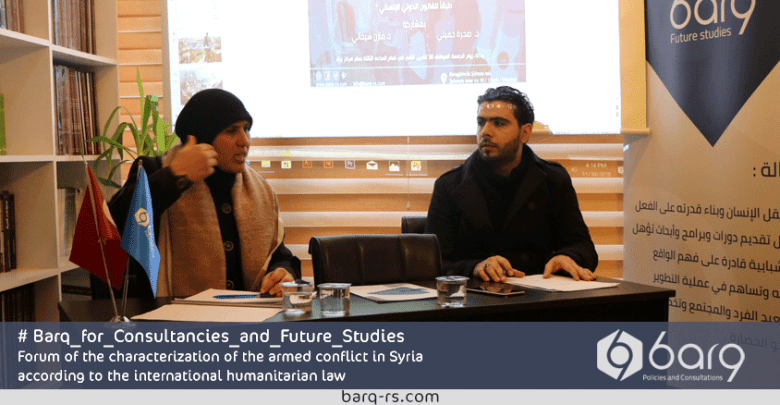 In process of full briefing of the concept of the armed conflict in Syria and the characterization according to the international humanitarian law, on Friday, 30 November, 2018 Barq Center conducted a forum in its headquarter in Istanbul with the participation of Dr. Sahra Khemilim a specialist in international humanitarian law who started her talk with an introductory presentation about the concept of the armed conflict in Syria, legally and internationally.
According to Khemilim, the armed conflicts in their general international concept are divided into two parts: international armed conflicts and non-international armed conflicts. She added that any armed conflict is not considered so unless it is within four considerations agreed upon internationally: the conflict is among countries, between the government and an armed entity, between the government and a group which declared its defection from the government and fourth is when a conflict happens between two groups within the country.
After Dr. Khemilim put the recipients in the frame of the general concept of the international armed conflicts, she moved to describe the Syrian conflict in its international context while elaborating on the most important international agreements related to the war in Syria such as the four Geneva agreements which are specific to the protection of civilians, the wounded, the prisoners, the detained and the missing persons, in addition to the mini-convention and the customary rules which condition providing the minimum of civilian protection. In the same context, she noted that all the sides involved in the Syrian war, including the regime and the opposition, violated all the agreements, treaties and charters.
Before concluding the session, Dr. Khemilim classified the conflict in Syria as an armed conflict with an international dimension, she offered a recommendation to solve the Syrian conflict which implies the emphasis on the necessity of producing a Syrian solution among the Syrian sides and entities together without dependence on the super powers which implement these conflicts to serve their regional interests.
The attendance played an important role in enriching the topic of discussion by their participation and by expressing their ideas about the concept of the conflict in Syria according to the diversity in opinions and ideas.